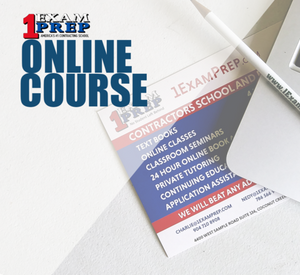 Get started on your path to becoming a licensed West Virginia Contractor by studying for the required PSI computer-based Business and Law examination with simulated online practice questions. 
Practice in a timed environment right from your home computer or mobile phone
Hundreds of practice questions in computer-based format

Bonus - Also included are

 

strategies for taking contractor's licensing exam, test-taking techniques, and time management tips. 
Covered topics include business organization, contracts, estimating and bidding, financial management, labor law, licensing, lien law, project management, risk management, safety/OSHA, and tax laws. 

3 months of online access
Android and iOS Compatible - Complete the course on your phone, anytime or anywhere.