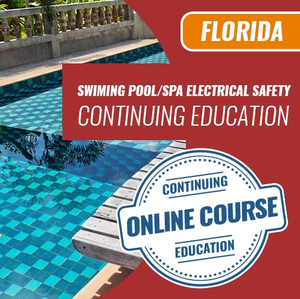 Florida Swimming Pool /Spa Electrical Safety Continuing Education - 1 Hour Online Continuing Education Course 
Our course works on all platforms, Windows, Mac, iPhone, iPad 
Florida State Registered and Certified Pool Contractors are now required to take 1-hour of continuing education on swimming pool / spa electrical safety. 

Our 1-hour online course is designed to familiarize practicing contractors with the requirements to safeguard persons and property from any potential electrical hazards pertaining to pools and spas. The course meets the Florida DBPR 1-hour swimming pool electrical safety renewal requirement for Florida swimming pool contractors. 
This course consists of 1 Hour Continuing Education Unit (CEU) for: 
Swimming Pool /Spa Electrical Safety #0614024
Course Details:   
Course Access - Link to course and log in instructions will be emailed to you  upon purchase. 
Online Course - Complete the course in the comfort of your own home or office 24 hours a day, 7 days a week. 
Android and iOS Compatible - Complete the course on your phone, anytime or anywhere. 
Self-Paced - Watch each video at your own pace. If you are not able to watch an entire video at one time, don't worry. When you log back into the course you can finish watching where you left off. The quizzes after each video are not timed, so you can take all the time you need.  
Instant Certificate of Completion - When you have completed the course you may download your certificate to keep for your records. 
We Report Your CE Hours to the State

 

- Upon your 100% completion of the CE course, we will report to the DBPR that you have completed your continuing education requirements.
1 Year of Access - You will have access to the course for 365 days from the date of purchase. 
State Approved CE Course - Our course provider ID is 0005785 
All certified and registered State of Florida contractors administered under the Construction Industry Licensing Board (CILB) are required to complete 14 hours of continuing education each two-year renewal cycle.
Certified Contractors must renew by August 31st of even-numbered years.

Registered Contractors must renew by August 31st every odd-numbered year. (Some registered contractors renewals may not fall on an odd-numbered year depending when you applied for your license.). 
After a licensee's completion of a course, the information must be submitted to the DBPR electronically no later than 30 calendar days thereafter. However, the CE Provider shall electronically report to the DBPR completion of the licensee's course within 10 business days beginning on the 30th day before the renewal deadline or prior to the renewal date, whichever occurs sooner. 
You have the option to download your Certificate of Completion to keep for your personal records  The instructions to download your certificate are at the end of the course in the last module.

Should you have any any questions you may contact us at support@1examprep.com or you may call 954-210-3030.