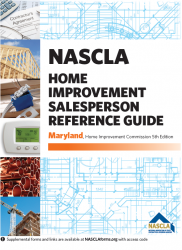 Our tabbed and highlighted exam ready books are skillfully tabbed and highlighted by professionals. Your book will come affixed with permanent quick reference tabs printed with the chapter titles and other important sections to help you quickly and easily navigate through the book during your exam. Key areas will already be vibrantly highlighted so you know what subjects are relevant while saving time preparing for your exam. 
NASCLA Home Improvement Salesperson Reference Guide, Maryland Home Improvement Commission 5th Edition is organized into two sections.
Part 1 focuses on preparing you for the licensing exam. This section will help you understand licensing requirements, estimating, and contract management.
Part 2 covers completion of the home improvement licensing application including fees, instructions, and sample forms.
Maryland NASCLA Home Improvement Salesperson Reference Guide, MD Home Improvement Commission 5th Edition; Highlighted & Tabbed