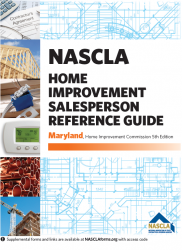 NASCLA Home Improvement Salesperson Reference Guide, Maryland Home Improvement Commission 5th Edition is organized into two sections.
Part 1 focuses on preparing you for the licensing exam. This section will help you understand licensing requirements, estimating, and contract management.
Part 2 covers completion of the home improvement licensing application including fees, instructions, and sample forms.
Effective December 1, 2016, only this new 5th Edition will be used in the examination center.
9781934234952
Maryland NASCLA Home Improvement Salesperson Reference Guide, Maryland Home Improvement Commission 5th Edition; Tabs Bundle [Book + Tabs]