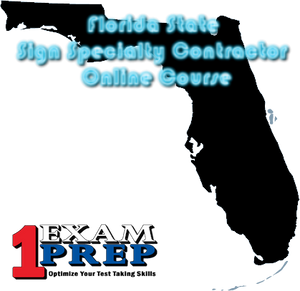 Our State Sign Specialty Electrical Contractor Exam Prep includes:
Highlight and tab locations for all of the reference books
1 hour test taking techniques lesson
Book Overview videos
Practice Questions and Answers
3+ Hours of Instructional Videos
Scope - Applies to the Below:
Sign Specialty Electrical Contractor. The scope of certification includes the structural fabrication including concrete foundation, erection, installation, alteration, repair, service and wiring of electrical signs and outline lighting. The scope of certification shall not include the provision of, or any electrical work beyond, the last disconnect mean or terminal points. However, a contractor certified under this section may provide the electrical entrance requirements for metering and main disconnect of remote billboards or signs which are independent of any structure or building and which require no more than twenty-five (25) kilowatts at two hundred fifty (250) volts maximum.
What our State Sign Specialty Exam Electrical Contractor Prep includes:
Highlight and tab locations for all of the reference books
1 hour test taking techniques lesson
Book Overview videos
Practice Questions and Answers
3+ Hours of Instructional Videos