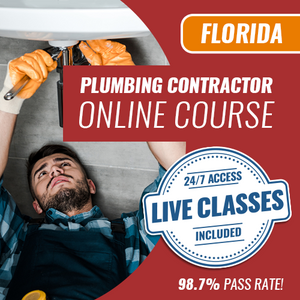 Get one step closer to becoming a Florida State Plumbing Contractor with a prep course designed by 1ExamPrep to help you conquer the required Plumbing Contractors Trade Knowledge exam.
Use a blended, self-study and virtual class structure to tailor your prep to your individual learning style. Course includes:
1 year access to online course and live instructor-led virtual classes*
Highlighting and tabbing location for each required

 

book

, so you can quickly and easily reference your materials during the exam
Practice questions

 

printable PDF format and timed simulated computer-based format

Testing taking techniques that are an indispensable part of

 

these

 

open

-

book

 

exams

Android and iOS Compatible - Complete the course on your phone, anytime or anywhere.
*Virtual class is covering books only, 
in-person isometrics class
 not included with purchase of the course
A Florida Plumbing Contractor is a contractor whose services are unlimited in the plumbing trade and includes contracting business consisting of the execution of contracts requiring the experience, financial means, knowledge, and skill to install, maintain, repair, alter, extend, or, if not prohibited by law, design plumbing.
A plumbing contractor may install, maintain, repair, alter, extend, or, if not prohibited by law, design the following without obtaining an additional local regulatory license, certificate, or registration: sanitary drainage or storm drainage facilities, water and sewer plants and substations, venting systems, public or private water supply systems, septic tanks, drainage and supply wells, swimming pool piping, irrigation systems, and solar heating water systems and all appurtenances, apparatus, or equipment used in connection therewith, including boilers and pressure process piping and including the installation of water, natural gas, liquefied petroleum gas and related venting, and storm and sanitary sewer lines.
The scope of work of the plumbing contractor also includes the design, if not prohibited by law, and installation, maintenance, repair, alteration, or extension of air-piping, vacuum line piping, oxygen line piping, nitrous oxide piping, and all related medical gas systems; fire line standpipes and fire sprinklers if authorized by law; ink and chemical lines; fuel oil and gasoline piping and tank and pump installation, except bulk storage plants; and pneumatic control piping systems, all in a manner that complies with all plans, specifications, codes, laws, and regulations applicable. The scope of work of the plumbing contractor applies to private property and public property, including any excavation work incidental thereto, and includes the work of the specialty plumbing contractor. Such contractor shall subcontract, with a qualified contractor in the field concerned, all other work incidental to the work but which is specified as being the work of a trade other than that of a plumbing contractor.
A plumbing contractor may perform drain cleaning and clearing and install or repair rainwater catchment systems; however, a mandatory licensing requirement is not established for the performance of these specific services.
Florida State Plumbing Exam Dates and Deadlines: 
The plumbing (trade knowledge) examinations are administered in paper and pencil format multiple times per year in Orlando only. To register for the exam visit www.floridaexam.com
| | | |
| --- | --- | --- |
| Exam Date | Deadline | Exam Location |
| February 27-28, 2023 | January 29, 2023 | Osceola Heritage Park, Exhibition Building |
| April 11-12, 2023 | March 12, 2023 | Osceola Heritage Park, Exhibition Building |
| June 26-27, 2023 | May 28, 2023 | Osceola Heritage Park, Exhibition Building |
| August 15-16, 2023 | July 16, 2023 | Osceola Heritage Park, Exhibition Building |
| October 17-18, 2023 | September 17, 2023 | Osceola Heritage Park, Exhibition Building |
| December 12-13, 2023 | November 12, 2023 | Osceola Heritage Park, Exhibition Building |