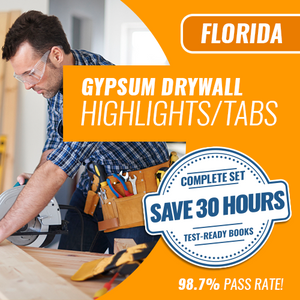 *Please allow an additional 15 business days on tabbed and highlighted trade book package orders.*
Artfully and skillfully tabbed and highlighted by hand, with tabs that are easy to read and navigate and vibrant highlights.
The complete set of highlighted and tabbed Florida State Gypsum Contractors trade exam books includes the following:

C754-20 Standard Specification for Installation of Steel Framing Members to Receive Screw-Attached Gypsum Panel Products.

C840-20 Standard Specification for Application and Finishing of Gypsum Board. 

C1047-19 Standard Specification for Accessories for Gypsum Wallboard and Gypsum Veneer Base. 

C1396-17 Standard Specification for Gypsum Board, 2017

Walker's Building Estimator's Reference Book, Walkers 32nd Edition




Ceiling Systems Handbook, A Stahl, 19th Printing, 2012, Revised 2019

Code of Federal Regulations, (OSHA) 29 Part 1926

Contractors Manual, 2021 

Gypsum Construction Handbook, 7th Edition, 2014

Application and Finishing of Gypsum Panel Products, GA-216, 2016 Edition
Florida Drywall Contractor (also known as a Gypsum Contractor) is a specialty contractor whose scope of work is limited to the installation of all necessary and incidental metal accessories, including non-load bearing metal studs, runners, hangers, channels, drywall metal suspension accessories and prefabricated ceiling materials; and the preparation of the surface over which drywall product is to be applied. This includes the application of base and finish coats specifically designed for the gypsum drywall products of their own erection. This category shall not include plastering, block, or wood partitions. Nothing in this rule shall be deemed to restrict or limit in any manner the scope of work authorized by law of other contractor classifications.