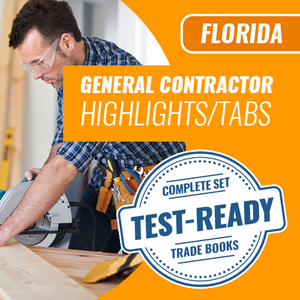 Florida General Contractor Exam Complete Book Set. Florida General Contractor Exam is an open book test that has 19 trade books, this package includes all 19 trade books for Florida General Contractor exam. 
*Please allow an additional 15 business days on tabbed and highlighted trade book package orders.*
This is the most comprehensive set of Florida State General Contractor exam books available on the market today! 

All of these books are professionally highlighted and tabbed by our Instructors. This process takes our highly trained staff 16 hours to professionally detail your books. There are a total of 400 tabs, and 2,000 highlighted sections specifically for the Florida General Contractor Contract Administration, Project Management & Business Exams. 
The complete set of professionally highlighted and tabbed Florida State General Contractor trade exam books includes the below references:
A201 General Conditions of the Contract for Construction, 2017

A401 Standard Form of Agreement between Contractor-Subcontractor, 2017

A701 Instructions to Bidders, 2018 


Florida Statues Chapter 455

Contractors Manual, 2021

Builder's Guide to Accounting, Michael C. Thomsett, Copyright 2001 

(note: only allowed into the business exam, not allowed into the trade exam)



Code of Federal Regulations, (OSHA) 29 Part 1926, (OSHA1926)

Principles and Practices of Commercial Construction, Ronald C. Smith and Cameron K. Andres, 10th Edition, 2019 

Energy Efficient Building Construction in Florida, 10th Ed., 2020

Building Component Safety Information: BCSI-ED2-D "Guide to Good Practices for Handling, Installing and Bracing of Metal Connected Wood Trusses", 2020

Florida Building Code - Building, 2020

Florida Building Code - Accessibility, 2020

Florida Building Code - Residential, 2020

Florida Building Code – Existing Building, 2020


Florida Building Code – Energy Conservation, 2020

Application and Finishing of Gypsum Panel Products, GA-216, 2018 Edition. 

(note: suggested study reference - not allowed into the trade exam)

 
Design and Control of Concrete Mixtures, Steven H. Kosmatka, Beatrix Kerkhoff and William C. Panarese, 17th Edition 

 

(note: suggested study reference - not allowed into the trade exam)




Placing Reinforcing Bars, 10th edition  (note: suggested study reference - not allowed into the trade exam)

Walker's Building Estimator's Reference Book, 32nd Edition 

(note: suggested study reference - not allowed into the trade exam)
To be a Florida Certified Contractor, you must be able to pass the contractor's test, provide a proven record of financial stability, and present evidence of your experience for the category in which you wish to be licensed. A contractor must have at least four years of field experience in the category being considered, and one of those years has to be acting in a supervisory role. This last requirement could be substituted for at least three years of undergraduate credit hours. When the contractor wishes to be certified as a building or general contractor, he/she must present evidence of experience in four of these categories:

Masonry walls
Steel erection
Elevated slabs
Pre-cast concrete structures
Column erection